What Our Members are saying about us

"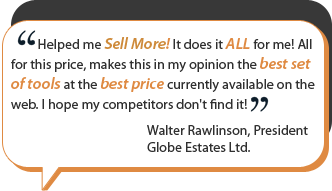 As soon as my partner saw it, he wanted it!

Saves me hours of time creating Craigslist Ads, handouts, web pages and automatic feedback. It does it all for me!

I've been using eagentfeedback for some time and recently upgraded to eAgent360. The feedback system has been excellent for us! Just like everyone else, we have too many listings chasing too few buyers. By providing a quick way to get honest feedback in the customers hands has made my job much easier and, more importantly, helped me sell more!

Customers have LOTS of properties to look at and tend to look and many properties before making a purchase decision. Some of my listings will get 15 showings over a 2 month period with them all saying the same thing, for
example, "Carpet needs to be replaced and the price needs to be reduced". After the seller gets emails saying the same thing over and over in their inbox they end up calling ME to reduced their price and fix the carpet instead of me calling THEM and going through the huge hassle and sometimes conflict filled discussion of price reductions and repairs!

Coupled with the new features of automatic handout creation, automatic craigslist ad creation, automatic web site creation and automatic virtual tour creation, all for this price, makes this in my opinion the best set of tools at the best price currently available on the web. I hope my competitors don't find it!"
Walter Rawlinson
President
Globe Estates Ltd.
Hope, BC, Canada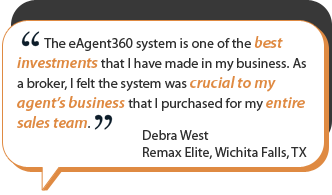 "The eAgent360 system is one of the best investments that I have made in my business. The showing feedback seller module and single property websites have paid for themselves ten times over by impressing sellers enough to select me as their listing agent. As a broker, I felt the system was crucial to my agents business that I purchased for my entire sales team. The support staffs have been awesome. We have caused glitches due to our inexperience and the service support team have been prompt and patient in assisting us in resolving the problems. I would recommend eagent360 to all brokers/owners and agents alike."
Debra West
Remax Elite
Wichita Falls, TX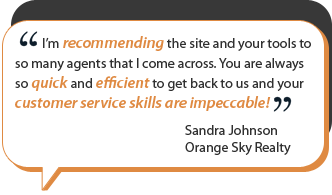 "I think you and eAgent360 are fabulous. I'm recommending the site and your tools to so many agents that I come across. You are always so quick and efficient to get back to us and your customer service skills are impeccable!"
Keep up the great work.

Sandra Johnson
Orange Sky Realty
Scottsdale, AZ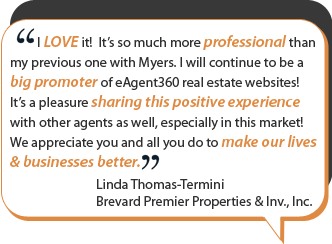 "I just wanted to take a moment to personally `thank you' for all your support in getting my new eAgent360 website up and running! I LOVE it! It's so much more professional than my previous one with Myers. Never thought I would be this happy with the new site. As I mentioned to you initially, I was a loyal customer and hated to lose the old site ~ new is definitely much better ~ that's for sure!
The website looks fabulous! Thank you so much for all your work in the transition from Myers to eAgent360... I, agree, that this new website will bring more buyers & sellers. It looks very professional! I have already promoted eAgent360 to several colleagues of mine that are also looking for new websites!
Again, I look forward in working with you in the future. I will continue to be a big promoter of eAgent360 real estate websites! It's a pleasure sharing this positive experience with other agents as well ~ especially in this market! We appreciate you and all you do to make our lives & businesses better. Kudos, for a job well done!"

Linda Thomas-Termini
REALTOR®
Brevard Premier Properties & Inv., Inc.
Merritt Island, FL
'I just started with your service, and am very happy with it! I'm glad I found you!"


Michelle Martin
@properties
Chicago, IL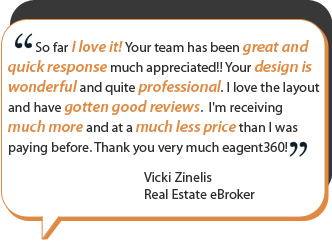 "So far I love it! Your team has been great and quick response much appreciated!! Your design is wonderful and quite professional. I love the layout and have gotten good reviews. I love the fact that I can print out a flyer quickly, virtual tour, and my selller has his own website of property! And account manager is awesome! She has helped me so much! She was quick at responding to any of my requests and so very helpful. I'm receiving much more and at a much less price than I was paying before. Thank you very much eAgent360!"… "also someone called me regarding my website they loved it .... I referred them to you."

Vicki Zinelis
Real Estate eBroker

California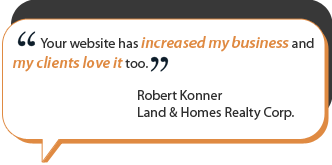 "Thanks so much! Your website has increased my business and my clients love it too. I really love the virtual tour, listing flyer and how your staff is available when I need help. Thanks"

Robert Konner
Land & Homes Realty Corp.
Yonkers, NY
"I like it a lot!! Thanks! Please express my thanks and admiration to the designer/developer who did this. I'm looking forward to the new system updates."

Sky Huston
Century 21/Tucker-Swanson, Inc.
Galesburg, IL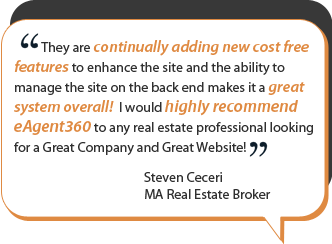 "eAgent360 has been a Wonderful Company to work with from day 1. The pricing of the website and all of the features that are included is just fantastic. The representatives have worked with me on many occasions to make the site exactly what I was hoping for. They are continually adding new cost free features to enhance the site and the ability to manage the site on the back end makes it a great system overall! I would highly recommend eAgent360 to any real estate professional looking for a Great Company and Great Website!"
Steven Ceceri
Steven & Company Real Estate
Westport, MA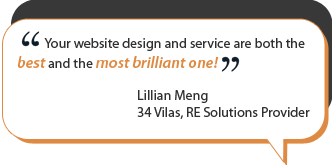 "Thank you very much for your help. Your website design and service are both the best and the most brilliant one, great job!"

Lillian Meng
34 Vilas, Real Estate Solutions Provider
Pasadena, CA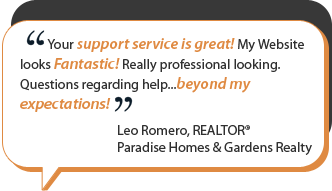 "Your support service is great! My Website looks Fantastic! Really professional looking. Questions regarding help...beyond my expectations! Your System seems to work well. I believe once I input all the suggestions you have given. I should get traffic to my Website!!

Thanks for all of your personal HELP!!!

Leo Romero
REALTOR®
Paradise Homes & Gardens Realty
Fallbrook, CA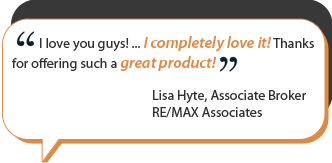 "I love you guys! I'm still learning about all you have to offer but so far I completely love it! Thanks for offering such a great product! "

Lisa Hyte
Associate Broker, GRI, CRS, ABR, SRES
RE/MAX Associates
Salt Lake City, UT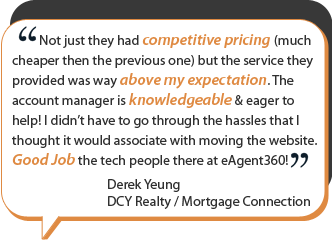 "I was a little worry about finding new web hosting company when I heard the company who previously hosted both my real estate & mortgage company web sites was closing down! I checked out a few companies & finally decided to contact eAgent360 for my real estate web site. Not just they had competitive pricing (much cheaper then the previous one) but the service they provided was way above my expectation. The account manager is knowledgeable & eager to help! The new web site was up & running in just a few days after we first talked. I didn't have to go through the hassles that I thought it would associate with moving the web site. Right after that I asked them to work my mortgage web site as well! Good Job the tech people there at eAgent360!"

Derek Yeung
DCY Realty / Mortgage Connection
San Francisco, CA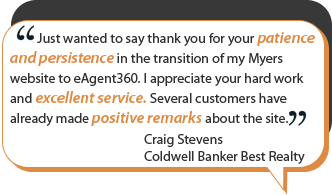 "Just wanted to say thank you for your patience and persistence in the transition of my Myers website to eAgent360. I appreciate your hard work and excellent service.
Several customers have already made positive remarks about the site. Again, thank you for your hard work, follow through, and courteous service!"

Craig S. Stevens
CRS, GRI
Coldwell Banker Best Realty
Ridgecrest, CA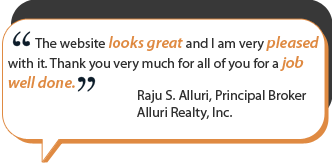 "Thank you very much. You all deserve. The website looks great and I am very pleased with it for now. Thank you very much for all of you for a job well done."

Raju S. Alluri
Principal Broker
Alluri Realty, Inc.
Reston, VA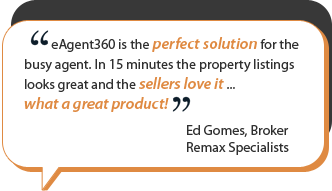 eAgent360 is the perfect solution for the busy agent. It is easy to complete the property info section and upload photos. In 15 minutes the property listing looks great and the sellers love it. Virtual Tour, Property Website & Agent Website plus a great feedback system for your listings ... what a great product!

Ed Gomes -CRS CRB
Broker
Remax Specialists
Markets 7 listings through eAgent360
"Looks G-O-O-D!!! Yeah, checked out my new website, looks GREAT!"

Jim Price
Broker
Au Glaize Real Estate Co.
Wapakoneta, OH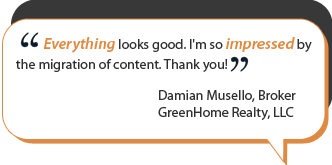 Damian Musello
Broker
GreenHome Realty, LLC
Somerville, MA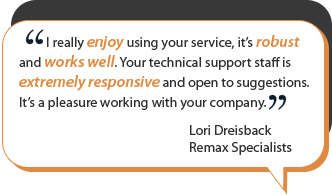 I really enjoy using your service, it's robust and works well. Your technical support staff is extremely responsive and open to suggestions – I appreciate that a lot. My clients love the feedback emails and seller summary reports; it makes my job of getting a price reduction a lot easier. It's a pleasure working with your company.

Lori Dreisbach
ABR, CRS, ePro
Remax Specialists
"I received the e-mail about my website being up and running. I actually changed a few things on it, added a listing, etc. It was sooooo much easier than Myers - yeah! My former partner said he configured my domain name and all is working as it should. Thanks again so very much for all your help. I greatly appreciate it!"

Diana Muscianisi
RE/MAX Beach Cities Realty
Marina del Rey, CA
"I was looking for single property website service for a builder when I started looking into eAgent360 website. As I dig deeper, I found out there are a lot of services included in the plan, as well as a professional agent website."

Mike Harscher
InMarket Realty, LLC
Bristol, WI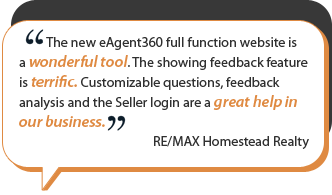 "The new eAgent360 full function website is a wonderful tool. The showing feedback feature is terrific – Customizable questions, feedback analysis and the Seller login are a great help in our business."
Nicole Halverson, Assistant to Mike Hicks & Susan Allred
RE/MAX Homestead Realty