Real Estate Flyers
Automatic Real Estate Flyer Generator to Print or Email for All Your Listings!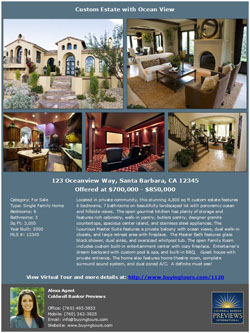 Our system creates your real estate flyer in one click! Say goodbye to the days of struggling to create your listing flyer using a word processing program.
Say Goodbye to Manual Entry
Your complete real estate flyer is literally generated in seconds! There is absolutely no manual entry by you. All content on your real estate listing flyer is automatically inserted including property description, property details, link to single property website and virtual tour, your photo, logo, and contact information. Property photos are also automatically inserted and resized to fit perfectly within the flyer.
Click, Print, and Go!
Need to print out flyers to refill the flyer box or for a open house? Use our system and print our your professional real estate flyers instantly. In just one click, your print-ready professional listing flyer is generated in PDF format.
Send Flyer Tool
Notify others of your listings by sending them a real estate flyer using our send flyer tool. The listing flyer we send is an HTML version of the flyer so it is easily viewable in an email.
Templates & Customization
Our real estate marketing system provide professional templates for your real estate flyers.

QR Code - Coming Soon!

QR Codes (Quick Response Code) have gained wide popularity in the last year. eAgent360 stays on top of the latest technology by adding a QR Code to your real estate flyer. QR Code allows your audience to get immediate access to more information. The person looking at your listing flyer scans the QR Code with their camera-enabled phone such as a iPhone, Android, or other Smartphone. The person is then taken to your property website where they are able to gain additional information about your real estate listing.

Try it now for FREE! No credit card needed! Signup takes seconds!