Real Estate Craigslist Ad
FREE Real Estate Craigslist Ad Creator - The Most Effective Tool to Hundreds of Leads!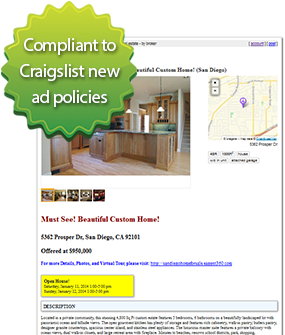 If you have not utilize the power of Craigslist Ads for your real estate listings, you are missing out on hundreds of leads a year. The key is systematic and consistent posting. Our FREE real estate craigslist ad creator will make this process easy for you. You would never miss any opportunity now thanks to the Craigslist ad poster of eAgent360!
Create Professional Real Estate Craigslist Ads Instantly!
Everyday, Real Estate Agents and Property Managers are utilizing real estate Craigslist ads to generate numerous of leads daily. Our real estate marketing system gives you the necessary code for your real estate Craigslist Ad. All you need to do is paste the code into Craigslist and your professional ad is complete with title, price, property information, property features, link to property website and virtual tour, and your contact information. Using our free Craigslist Ad generator will save you massive time from creating these ads from scratch and will make your real estate ads stand out from the rest.
Compliant To Craigslist's New Ad Policies
Craigslist is now enforcing new rules on how their ads can be created limiting the code that can be used. The Craigslist real estate ads generated by eAgent360 are fully compliant with these rules so you can use our code and publish immediately.
Property Website with Virtual Tour
For those who are subscribed to a listing marketing plan, we automatically insert the link to the listing's single property website and virtual tour that is automatically generated by our real estate platform allowing your visitors to gain more information about your real estate listing. This is another powerful benefit of our integrated real estate system.

Advertise and Drive More Traffic to Your Open Houses
If you are having an Open House of the property, this information will automatically display on your Craigslist real estate ad letting visitors know about it. This will advertise your Open House and drive more traffic to it.


We offer real estate Craigslist Ads for FREE! Sign up now