eAgent360 is a Single, Fully Integrated Proprietary Real Estate Marketing Platform
You no longer have to go out and purchase costly services from different companies and manage your separate services and marketing. With the eAgent360 proprietary real estate marketing platform everything is connected and integrated. It's the only solution you'll need at the fraction of the cost of paying for separate services.
More than just a Real Estate Website, but a Powerful Backend that Integrates all the Internet Marketing for Your Listings
With the sophisticated real estate marketing system of eAgent360 you can effectively make an impact on buyers ahead of time. eAgent360 offers the optimum Marketing solutions to your real estate property listings. You certainly do not want to lose any opportunities, do you? eAgent360 gives you the marketing and tools for maximum exposure of your real estate listings enabling you to reach out to more potential buyers.
Lead Capture & Management
California Association of Realtors® reports that 90% of buyers end up doing business with the first person who responds. A 5 minute response time to a lead should be your benchmark to maximize your lead conversion. So what is your current response time?
Instant Text Message to your Mobile Phone for Incoming Leads - Be the First to Respond!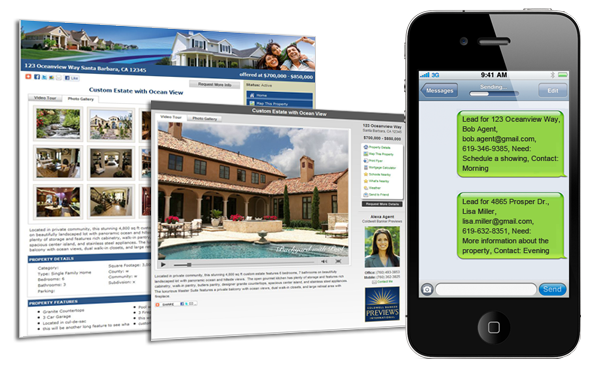 By using our system, the eMarketing we generate for your listings will bring in more leads for you. For your agent website and every listing's property website and virtual tour, we provide a contact form that allows a visitor to contact you for more information. This lead is captured into our system.


Get Your Leads Anywhere - Respond Faster to Your Leads
Whether you are on the road, in the office, or at home, we want you to get your leads immediately. We know how important it is to respond quickly to a lead. We will send you a text message to your mobile device giving you instant notification and allowing you to respond faster to your leads.
Don't Miss a Lead
With all the leads you will receive we want to make sure you do not miss one. By giving you the necessary management tools, you will ensure you have responded to every lead.

Drive More Traffic to Your Agent Website with IDX Property Search

Add additional value to your Agent Website by allowing visitors to search for their next home on your agent website with IDX Property Search. You will be able to drive more traffic to your agent website and capture and convert leads.
Free Frameable IDX Integration
Many MLS provides their members an MLS property search page. If they do, we can easily integrate this into your agent website. You'll be able to have your website visitors search for properties within your MLS right from your agent website instead of directing them to another website page. We will integrate this into your agent website for Free!

Contact us at support@eagent360.com and we will let you know if your MLS board provides you with a frameable IDX solution. Please specify your MLS board in your email.
eAgent360 Agent Websites give you the flexibility to integrate any IDX solution you would like to use
Advanced IDX Property Search
If your MLS does not provide you with a MLS property search page, or if you are looking for advanced MLS property search features, we offer Advanced IDX Property Search. The optional IDX property search exhibits on your agent website all the listings presented by your MLS data exchange. Features of Advanced IDX Property Search include:
Your Branded IDX Search - all IDX search pages are branded only with your name and contact information
Interactive Map Search
User Registration Control - control when and where visitors are prompted to register
Automatic Daily Email to Your Clients - automatically send your clients properties that match their criteria
Lead Capturing - Leads are captured through the tools visitors use such as saved listings, search save, and daily alerts. Forms such as requesting more info and to schedule a showing that are submitted by our visitors are captured as leads.
Mobile Site - mobile visitors are automatically directed to a mobile friendly version of your IDX search pages
Facebook Application - IDX property search on your FaceBook page

Click here to learn more about our Advanced IDX Solution
Our Real Estate Marketing Demos
You can view demo sites and samples of the real estate marketing our system will automatically generate for you.
Agent Website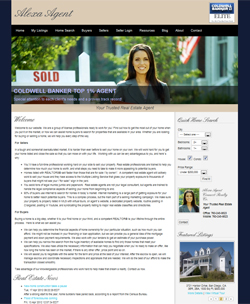 Your Agent Website is automatically created for you with default content and is fully customizable.
Use any domain name you want
Wide variety of professional designs available. Change design anytime you want in one-mouse click
Property detail page for all your listings entered
Easily integrate your MLS property search page
Add unlimited pages and menu items
Customizable animated banner slideshow
Search Engine Optimization
Customize font and background
Widget support
Integrated WordPress Blog
and much more!
Virtual Tour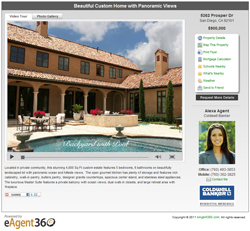 A Virtual Tour is automatically generated for each of your listings from the property photos you upload.
Configure the pan and zoom for each photo
Overlay text onto each photo and customize the font
Photo gallery
Fully branded and MLS compliant versions are provided to you
Different color themes available
Select background music from our library or upload your own media
Property Website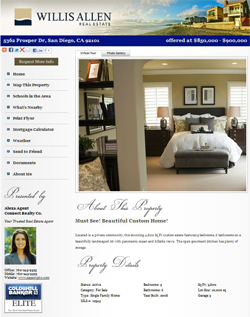 A Property Website is automatically created for every one of your listings. The Property Website is a multi-page website dedicated to promote a single listing.
Use any domain name you want for each property website
All property information automatically inserted and updated if any changes are made
Virtual tour and photo gallery are inserted
All resource content such as schools, weather, and what's nearby information are relevant for the listing that is being promoted
Customize the header by uploading your own image or use one out of our header library
Upload documents such as floor plans
Different designs are available and can be changed in a single click.
Listing Flyer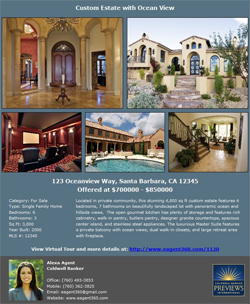 Listing Flyer is automatically generated for every one of your listings.
All property information and photos are automatically inserted onto the flyer
Your photo, logo, and contact information is automatically inserted
Instantly print your listing flyer
Send the listing flyer using our send listing tool
Different designs available and can be changed instantly
Showing Feedback Seller Report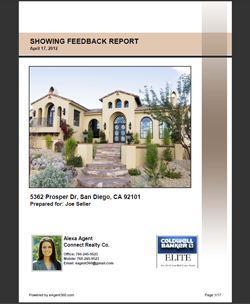 This is a sample of the professional Showing Feedback Report that is automatically generated for you and your seller. This report is part of the Showing Feedback System.
Generated in Seconds! Saves you hours a week! The report is automatically generated and updated as you receive more showing feedback
Impress your seller by printing it out and presenting to your seller
Keep your seller up-to-date by having our system automatically send it to you seller based on an interval specified by you
Cover page with property photo, your photo, logo, and contact information is automatically generated
Displays all of the feedack questions with graphs